New York! Does this name stir up your wanderlust like never before? Why not, after all, this boisterous city is an epitome of thrill and fervor. In fact, life here is an everyday celebration. One of the world's favorite cities, it wears many hats, all at the same time. Known as a Trend-setter, Art & Shopping Capital and Dining Destination, New York should certainly feature on your travel itinerary. For all good reasons, its charm is hard to miss, even when you are living miles apart! The first rays of sunshine usher in a new hope. As the evening sun fades to make way for the moon, its skyline lights up to display the grandeur and glory of its majestic charisma, virtue and existence.
Overlooking Hudson River, the skyscrapers illuminate the dark night as an assurance to its people, the city never sleeps! Its metamorphosis from exuberant to placid no way is an indication the zing has faded too. New York comes to life even in the dead of the night and is as magical as its days. The cheers of audience at the Broadway penetrate the silence of the dark skies to keep the spirit of the city alive and kicking! New York embraces all with its warmth and ardor. The best of jazz, cinema, theater, world music, comedy, burlesque, poetry and ballet. You name it, you get it. New York truly infuses life into your dreams!
New York is one hub to satiate your palette, hunger and taste buds with a scrumptious offering of world cuisine. As the Culinary Capital, the city lives up to its name, fame and rapport with the best of foods readily available any given day. Seasonal, organic, seafood, street-food, gourmet. The city has much more to offer than you can consume. You won't be disappointed ever in your quest to catch a cup of 'best' coffee to a glass of 'best' whiskey. Food is just another way of an artistic expression and New Yorkers know how to keep their expressions strong!
Times Square is an iconic place hosting the big daddies of food and shopping. You name a brand and you can spot it there. With an array of eateries and easy availability of delectable food offerings, America happily sings Happy New Year songs here. The world witnesses a grand spectacle of the famous ball dropping right here Laser light adds to the charm of the celebratory mood at this world famous square.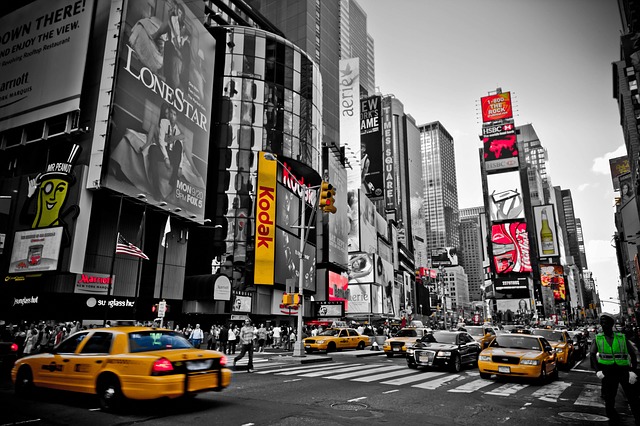 New York is also known for its baseball team The New York Yankees, which is widely followed by fans from across the globe.
The city sure is a paradise for art lovers as it embraces art with a touch of gold. The overwhelming presence of art museums displaying the best of aesthetic creations is a feast for aficionados. City galleries amuse them with a generous supply of art in different forms. Besides, New York is an architectural delight. The magnificence of engineering marvel is evident from wonders like The Empire State Building, Chrysler Building, St. Patrick's Cathedral and Grand Central Terminal, which reiterate the fact. Passing through the crowded streets, you can visit a list of other beautiful buildings that will cement your belief in New York's love affair with engineering and architecture.
There are more than one reasons to fall in love with New York City! Over the years, it has blended people and cultures across the globe to create a world of its own, that's fearless, cosmopolitan, vibrant, alive and zealous
Welcome to New York!
Written By :
Sakshi A Mattoo